TL;DR- We're eating the bitter fruit of an incomplete offseason at the big league level. But hey, some of the Older Baseball Teens and Our Young VIBES King are doing Neat Stuff!
Hello folks, It is I, Brian Tesch, the Bullpen Day of this here Web Log. You may remember me from such seminal pieces as The VIBES Series, YachtRock, and some football-related writing. It is good to see you too and yes I have gained some quarantine weight!
First off, I have a confession to make…
…
I am a Weird Baseball Nerd.
That's right, I know you're shocked, but alas, you may let go of your metaphorical pearls. I'm one of the Good Kind. The SABRBrainSpiders have only mainly laid eggs.
Due to being a generation behind on gaming consoles and bottom 10th percentile fine motor skills, I fell down the spectrum of indoor hobbies to "management sims." Let me tell ya, folks, I am incredibly blessed. By sheer chance I was led to the I took the good and friendly path of "weird nerd" rather than the "petty baseball crank" fork that those exposed to too much Tycoon Brain tend to take.
As a residue of my "why don't you actually play the game, hon" veterancy, I've acquired an odd hobby of mine that, let's call "indulging my inner tyrant." Roughly 1.75 times per month, I'll peruse through the usual watering holes of geekdom (baseball reference, FanGraphs, savant, the 1992 Bill James Guide to Baseball) and see something of a 100,000 ft view of Greater Marineristan. From there, I put on my "Everyone Is an Idiot But Me" member's only jacket and get comfy.
In the past these Acorns Of Wisdom have been buried deep in the memory hole, in google docs, or in .txt files with impactful titles like MARINERS2021 or MARINERJUN2020, never to be seen again by even me.
No more, hiding under a bushel, NO, gonna let the light WeirdAss light shine!
Welcome to the Auto Re-order. A (hopefully) monthly round-up of all the things that should be going up, down, and round and round across Marineria. If I've done this correctly, you'll have a pretty darn good idea of happenings major & minor and rumblings from diamonds far and near. As this is a Pretty Darn Hefty edition covering April/May and the transaction typhoon that was early June, it'll be a two-parter.
Anywho everybody loves the baseball babies; let's get to some auto-reordered graduations!
TL;DR Because this really, at its core, is an exercise in gatekeeping, I'll allow you to be, let's call it 8/10 stoked for the rumblings at the lower minors.
Right now, the Frogs Of War are loose in Snohomish County; as of the time of this writing, they've scored almost twice as many runs as they've allowed, and some of the loudest ribbets have been coming from the aforementioned duo who should be rewarded with summering in Arkansas…
Less ballyhooed than the recent troika of Mariner 1st round starters, Williamson has compiled a minor league track record which I would consider as "diligent burnination." 4 starts into 2021 the former Horned Frog is striking out nearly 2 batters per inning (17.9!!! k/9) and has a 3.5 ERA which is backed by encouraging peripherals. Though the walks are a little concerning (2.5 per 9 innings, which is bad but palatable), Williamson is 23 years old and has shown the ability to find the easy button against Hi-A. Let's get him a frogtastic sendoff and complimentary tickets to the Duck Calling World Championship….
What's to be said of Julio that hasn't already been said. While I'm not getting my hopes up about his contribution to the team until at least the summer of 2022, superstar players typically perform much like Julio has thus far in his career. He's earned the right to be one of the youngest AA regulars in baseball once he's done becoming an Olympic Hero…
It's gone about as well as one would have hoped on the dusty frontiers of the Mariner Empire. There are both folks who are looking to have cracked the nut (Noelvi Marte, Adam Macko, Josias De Los Santos, Connor Phillips, Taylor Dollard) in Modesto and some potential future Frogz2Hogz (George Kirby, Emerson Hancock, Kaden Polcovich, Matt Brash, Isaiah Campbell) who are getting some bullet points on the resume this summer in Everett…
SELF SERVE DIAMOND MINE 2 REGIONAL BEVERAGE BEARS FIND DIVINE! (workshopping this)
TL;DR Time to get those fringies rolling!
Meanwhile, the Hogs of War are **also** loose! Another team that is vastly overpowered, it's time to get the folks who are performing up to the Big Kid League Purgatory of AAA…
If you've ever wanted to know what the Pile Of The Future may look like, welp, you've come to the right place on the internet. Kober and Anderson are both overaged (26 and 27) sidearmers with track records of success (Kober running a fantastic .96 ERA in 2021, Anderson is now repeating AA with a 2.52 ERA). Duron is a minor league free agent who looks to have found something since switching coasts in 2019. He's chucked 9 scoreless frames to start off 2021 and is coming off a very encouraging stint in Everett. If there's any sort of "logjam" within the org, it's at the back end of the bullpen as we've got ourselves a Guyileup at AAA (also backup catchers, shout out to Brian O'Keefe, who's hitting really well!)…
Sweet and McKinney are pretty similar "overaged and having some modicum of success" type dudes who the org should get going to see if there's an up-and-down guy out of the duo. Sweet, 24, ended his last "the before times" season on a high note in hi-A and has continued the run of success into AA. The Sweet One is running a passable 3.92 ERA (UPDATE: oh no it's up to 4.78!) with a K/9 creeping up towards 13, which is fantastic even in an inflated K environment. Walks (3.8 BB/9, ick) and dingers (14% HR/FB, double ick) are a concern, but he's trending towards being rotation depth and/or a swingman…
McKinney is one of the rare positive examples of "There's No Such Thing As a Pitching Prospect," as he's gone from minor league FA to overaged dominator. Currently running an FM Radio ERA (1.17, smooth gas UPDATE: Ah blern its up to 2.77 but the bad joke stays), it's time to see if the 26-year-old's velocity gains and plus command will play against kids his own size…
Scheiner, 25, (acquired in the Jay Bruce trade) is a "Fringy on a Heater" right now. The .407 batting average on balls in play will likely come down. Still, there are extremely encouraging gains in power as he's slugging the daylights out of it (.541 slugging percentage at the time of this writing). The org is seeing if theres a France-Lite potentially and has given him three starts at second…
Cowan, 26, hailing from the Mean Streets of Kent (insider tip: if you ever meet someone from Kentlake, talk to them about their comically oversized parking lot), has been with the org since 2013 and has made some encouraging plate discipline gains (BB% is up to 16%), time to get him up to Tacoma to see if theres enough bat to be a true bat-first utility player…
If anything, it's somewhat interesting to see the org play very conservatively with some of the older fringe prospects, especially with the near historical lack of offensive production in the bigs. A White-Blankenthorn-Cowan-Scheiner infield (UPDATE: lol) is far more age-appropriate than what the team is currently running out of at Tacoma and the team should be far, far more aggressive than they are with folks who probably won't be but who are still young enough to be dudes of the greater reimagining.
Get well soon, Shed Long, UPDATE: he did!
I understand that; yes, they're playing on the Moon at this point in AAA and the leaguewide average OPS is .808. Even with the sliders all turned up to "holy schnikes," Cal Raleigh has been pretty doggone impressive in his time as a Rainier and should be starting his tenure as Mariners Catcher of the Present! and Future? Soon. Good ol CalRal is sporting the lowest K-rate of his career (roughly 11% at the time of writing). His isolated power (weighted slugging percentage) is also at a career-high 330, which, if carried over, would put him second all-time in the history of the sport of baseball.
Which, PCLol.
We'll talk more about our bud, our pal, our Shimmy King later on. Currently lifting the national morale.
Shed Long is getting healthy and starting to hit in Tacoma and, in an odd way, has benefitted by doing nothing. In contrast, other infielders in the org have shown themselves as folks best suited for part-time work. It seems like forever ago, but Long carries an impressive minor league resume and a small degree of success in the bigs. He should have his ORCA card loaded and ready to go at any time (and good thing he did!).
Jerryworld Update
TL;DR Was more good than bad for a bit, but it's been a bummer thus far!
JERRY BE GOOF'N'!
Wont shed tears over this but the M's decided to pass on some potentially intriguing Pile Guys of both arm and bat…
Let's start out with Albert Pujols and a Truly Cursed OOTP-ass photo.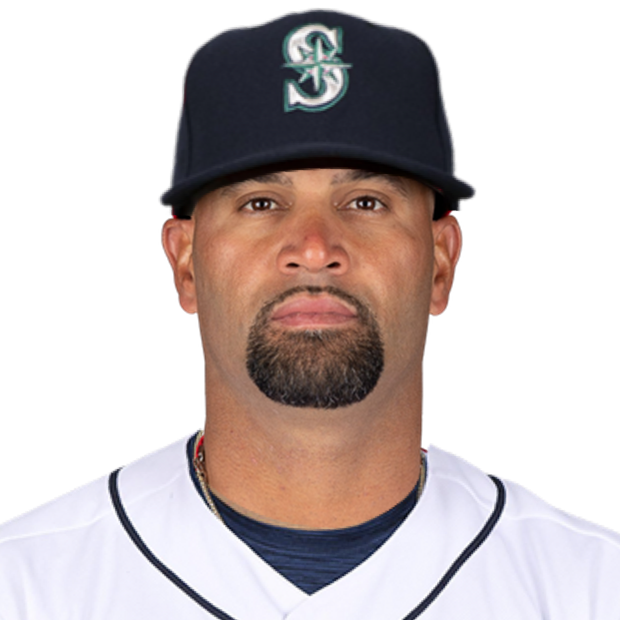 I had to see, now so do you. Anywho one of, if not THE greatest hitters of the last 20 years, signed somewhat curiously with the Dodgers for the remainder of the season post-surprise DFA. Though disappointing when held up to the weight of his previous accomplishments, Pujols is Actually Kinda Nice With It this year in terms of batted ball data. At the time of this writiing, he projects to be about league average in terms of offensive output. Welcome to what the bar is to be the Designated Hitter of your 2021 Seattle Mariners. Though league-average offense, potential veteran mentorship, and a starting daily reminder of mortality would be cool, I get that given the option Pujols would want to spend likely his last year in professional baseball in an organization that's actualizing instead of one trying to thatch the roof…
Hey, Ben Gamel! Remember him! Welp, ol Benny Goodlocks has fallen upon some rough times as he's making less of and worse contact than he did in his stint in Seattle and was picked up by the Pirates. I get why the team passed as there's not a ton of upside here but alas, he'd be in contention for some plate appearances with the state of the roster…
Edgar Santana is a reliever with a track record of success in both the minors and the bigs. However, there's a reason he's available for cash considerations. Since 2019 has won the "troubling acronym treble" by recording a TJ (Tommy John surgery in 2019), PED (suspension 2020), and DFA (from the pitching starved Pirates nonetheless) to cap it off. The 29-year-old Santana has 2 option years remaining and would've made an noteorthy addition to the bullpen pile for the M's…
Mathisen is a likely Quad-A "2b"/"3b"/1b option who pre-pandemic was an age-appropriate AAA masher. During The COVID Years, Mathisen has hit something of a skid and was DFA'd by the Diamondbacks and picked up by the Rays. Just 27, he's in that "squint for the future, but at least you could see it" bucks but really is more of a different flavor of AAAA Guy…
JERRY B GAFFE'N!
Whelp, if you like gaffes's it looks like we've got a three-course meal!
Yoshitomo Tsutsugo is a 29-year-old who was hitting .167 with nearly no power when he was DFA'd by the contending Rays in mid-May.
On the surface, this doesn't at all look like a gaffe (and he's currently actually playing worse for the Dodgers!), but when you dig slightly deeper, I'd say this is both a head-scratcher and also actively hurt the team.
Just 2 years removed from signing with high hopes of mashery, Tsutugo has shown that he can both fake it at third and in left field and comes with an extensive track record of plate discipline (walked at a 12% clip in overseas competition and has carried that skill over, walking 13.2% of the time in MLB) and nearly a decade of stunning offensive production in Japan. There would've been nearly daily plate appearances to be had here in Seattle for a player who ended up being acquired for cash.
Here's the paragraph that I was working on from the below "Jerry B Good" section about Travis Blankenhorn…
Travis Bkankenthorn is a darn near perfect waiver add
The SmolHat gets a tip this month as the Mariners rescued some glory from the jaws of a gaffe. DFA'd by two orgs in one month is not necessarily a precursor to a successful big league career but Blankenthorn comes with more intrigue than your median DFA.
…
Annnnnnd now he's a Met.
So yeah, Blankenhorn was young (24), could fake it at second while being ok at third and in left, and came with an intriguing pre-COVID minor league track record. Had he mashed in Tacoma, there were at plate appearances for him during the second half of the season, and a potential role post-reimagining. Though he wouldn't have been exciting this is exactly the kind of player you can use your implied noncompetitve status to give a 100-200 plate appearance audition. On the other hand, whenever you get a chance to roster Jack Mayfield and Hector Santiago you just gotta do it…
Ah, the main course, Delapane de resistance, if you will……
So, strangely, I'm actually kinda stoked for our gas-packin' shortking. Delaplane ended up getting a raise, going to a team known for developing pitching and gets to rehab closer to home to boot. Alas, putting on my Number Generators Only Goggles, this was the biggest unforced error made in this young season by any franchise. If anything is a troubling look at an organization gunning for the pennywise pound foolish blue ribbon. Someone really should tell the powers that be that this is not a real competition and their ribbon is not in the mail!.
Let's start off with the knocks on Delaplane. Short dude, small school, drafted late, command concerns, single inning, two pitches, recent TJ, old for level, velocity is acceptable, platoon splits coming….
**catches breath**
Pros about Delapane: Lol he gets outs.
Yes, relief-only prospects are inherently risky, and there's a pretty darn good chance that Delaplane never throws a professional inning but again, tapping the sign, this is the data dust a high-leverage reliever would kick up through the minors. To add a lil' barf flavored cherry to top it off, it would've cost roughly 580k to keep Delaplane on the roster to rehab on the 60-day disabled list. Really unsure what the organization was thinking here but choosing between cheap and evaluations purely on vibes (not our VIBES!) is a bad choice to have for a baseball team!
JERRY B GOOD
-(Here's what I wrote in late May) The org shouldn't get a cookie for putting forth their best lineup, but alas, here we are. Logan Gilbert and Jarred Kelenic are both up and here to stay for the foreseeable future. These are legitimately fantastic prospects with track records that look like first-division starters of the past and represent a moment of hope for the franchise. Be as excited as you see fit.
-Kudos to the org for both knowing when to say when with Luis Torrens and also for plucking an exciting player from minor league free agency. Godoy has a track record of some age-appropriate success with the bat in his hand, and while he's never going to win, a gold glove should stick at catcher. Finding a potential multi-year backup isn't nothing, and there's some minor kudos to be had here.
-Another small round of kudos to hand out as The Pile, Class of 2021, exceeding expectations, has kept this iteration of the Mariners from the true depths of despair. One of the Guys who Could Very Well Be A dude is the 30-year-old Chargois, who has trimmed his walk rate from 3 per 9 to less than 1 (.9! he's only walked one of the first 38 batters he's faced! This is quite good!). Shaggy was once a closer-in-waiting a few presidential administrations ago and has an impressive track record of minor league success, which has failed to carry over into the bigs. Hopefully vaccinated, Chargois could be the guy who makes lemonade out of the current state of scorched earth that is the Mariners bullpen in early June.
Trammel & Torrens (and hopefully White) are down but not out
UPDATE: Taylor Trammell is up and hopefully in
– Kudos to the org for pulling the plug on Torrens, Trammel, and hopefully Evan White being part of a big-league lineup at this point. Won't get into granular details, but all three of these players were rudderless to certain degrees. As we've already seen with Trammell, it is, in fact, possible to hit your way back into the majors. Hopefully, Torrens and White can follow suit.
ON THE NEXT EPISODE OF THIS JAM-PACKED RE-ORDERING, WE TAKE A LOOK AT THE OPTIMAL STATE OF THE BIG LEAGUE ROSTER HERE IN JUNE.
ETA, LIKELY BEFORE JULIO RODRIGUEZ IS CALLED UP BUT WHO KNOWS!